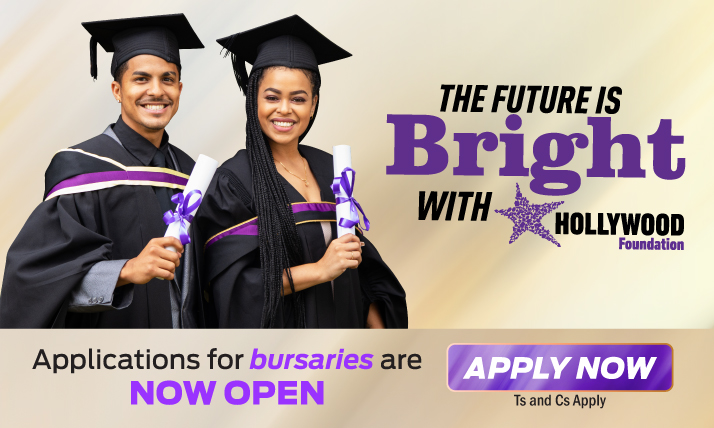 The Hollywood Foundation is excited to announce the opening of applications for the 2024 Future is Bright bursary programme under the slogan "Sizofunda Sonke."
The campaign aims to offer South Africans an opportunity to fund their tertiary studies and fulfill their career goals and dreams.
In line with Education and Training, the Hollywood Foundation aims to encourage students across the country and bridge the gap between high school and tertiary education by ensuring that they are equipped with the necessary knowledge, skills and abilities to enter the workforce.
Please note:
The bursary will cover studies in the following fields and will include full/partial funding, depending on academic results and field of study:
Computer Science
Supply chain and Logistics
Business Management
Finance / Accounting
LLB / Legal
Human Resources
Digital Marketing / Marketing
Graphic Design
Media and Communications
In order to qualify, the following criteria must be met:
Latest results > average of 65% for grade 11 or 12 and 65% minimum per subject required for entry into degree
Latest results > 60% if tertiary/higher institution
South African Citizen (externals only)
Duration of course: 12 months and longer
Type of qualifications: National Certificates, Diplomas, Degrees and Post-Graduate studies (Institution to be registered with the Department of Higher Education and Training)
Please note that selected applicants will be required to go through the full selection process which includes assessments and interviews.
The bursary applications are open from 04 May 2023 to 30 June 2023.
Please click on the button below to apply.