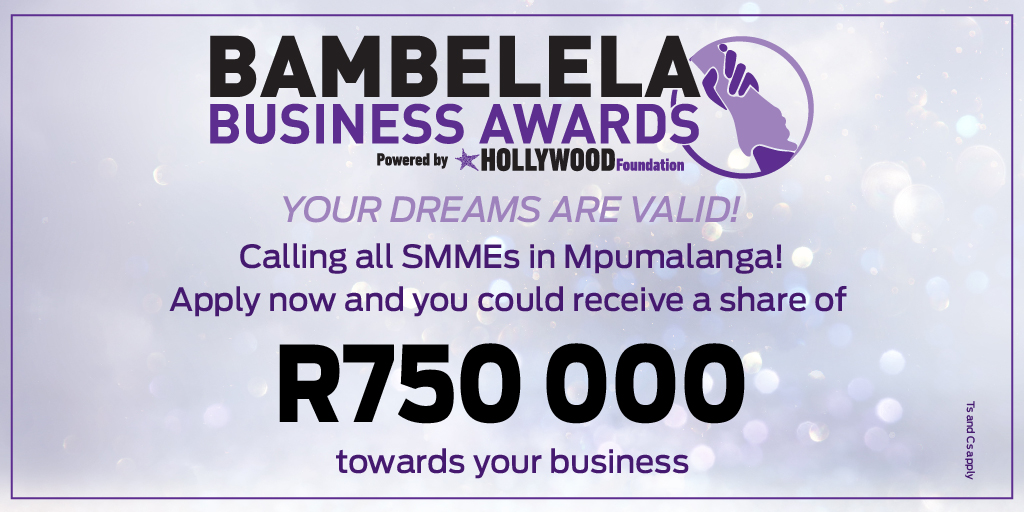 Small businesses play a pivotal role in helping communities to thrive while creating jobs for locals. For this reason, the Hollywood Foundation, through itsEnterprise and Supplier Development(ESD) programme,is proud to announce the first ever Bambelela Business Awards. These awards have been created to recognise local heroes and heroines who are making a positive impact, whilst also providing them with support in their entrepreneurial journey.
The Bambelela Business Awards through its slogan "Bambelela (Hold On) – Your dreams are valid", aim to shine a spotlight on some of the great achievements made by entrepreneurs in the province of Mpumalanga.
To showcase their work, small businesses will be given an opportunity to take part in the SMME exhibition and seminar, where a panel of judges will select businesses who will receive awards and a share of R750 000 of funding from the Hollywood Foundation.
The Hollywood Foundation is aware of the fact that this has been a challenging time for businesses of all shapes and sizes throughout South Africa and around the world due to the devastation caused by the COVID-19 pandemic, however, there are still reasons for celebration. As an organisation that cares for the needs of the communities it serves, the Hollywood Foundation endeavors to recognise those businesses that are doing incredible and innovative things in their respective industries. Entries for the Bambelela Business Awards open today (13 January 2023). The awards will be given solely on merit and are presented to commend those most deserving for their ingenuity and hard work.
To qualify for entry, businesses must meet the below requirements
Must be at least 51% black-owned business

Local business – registered and operating in Mpumalanga

Formal and or informal registered local businesses

Business must be in operation for at least 12 months and have a proven track record of trading.

Business Profile or clear description of the nature of the company/business

Businesses who are exhibiting must showcase their business through:

3-minute visual presentation (provide your own resource) OR 3-minute elevator pitch
Please note that applications are now closed.